 WELCOME TO BONANZA

CREEK MONTANA
Bonanza Creek is part of a family operated cattle ranch in the Castle and Crazy Mountains of Montana.  The Voldseth family, which are the fourth and fifth generations living on this land still own and work the ranch and run 1500 head of cows on 25,000 acres.
For you, that means beautiful views from your cabin, peace and quiet, lots of places to ride with our wranglers, fishing, mountain trails to hike, and places to explore and hunt on the Lewis and Clark National Forest.
We started in 1994 as a guest ranch, a new business that was so different from cattle ranching.  But what an adventure it was! We've had so much fun and met so many wonderful people.  Our lives have been enriched over and over again by the best guests and riders we could ever imagine from around the world.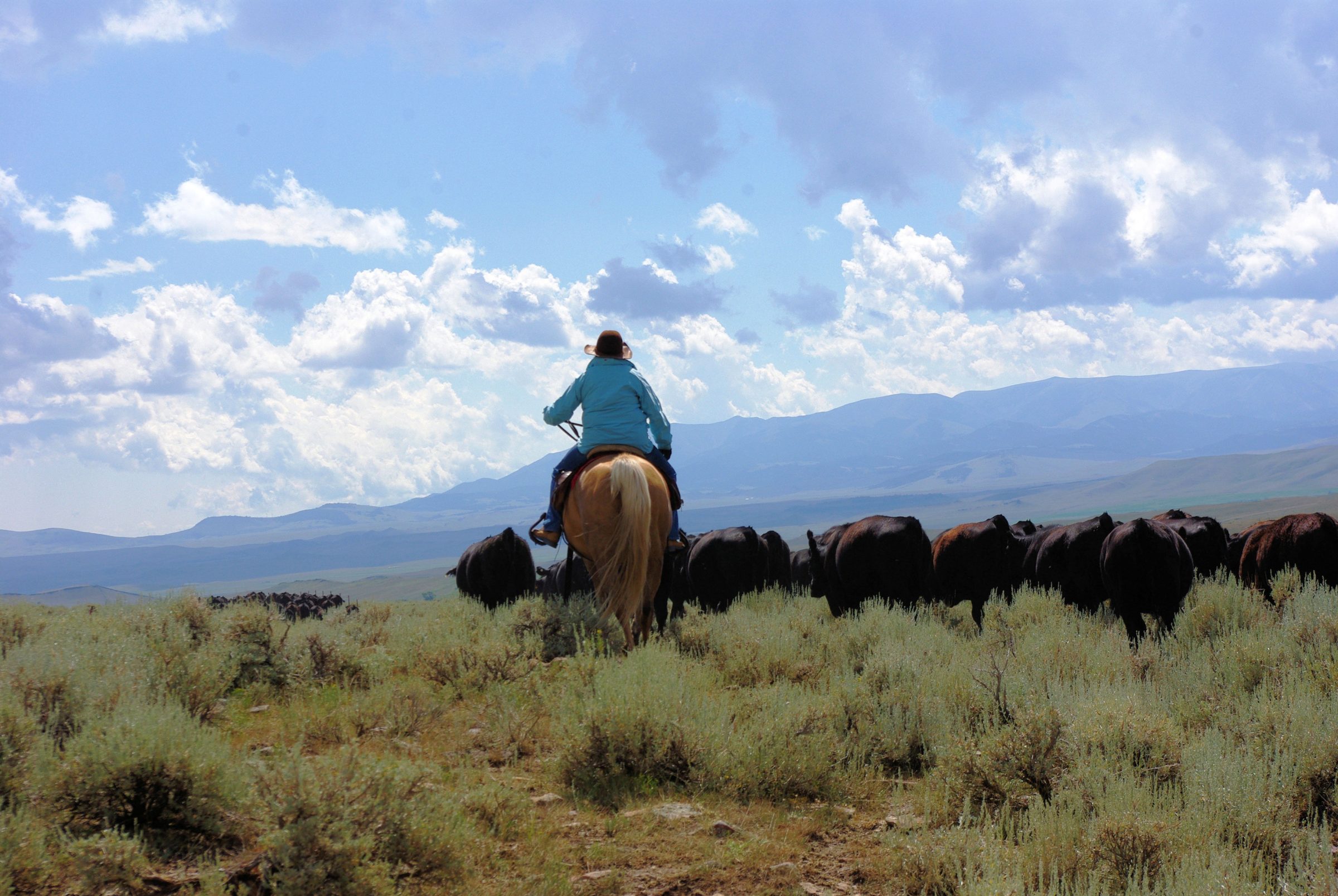 In 2015, we started our Cowgirl Retreats, retreats for changing the lives of women using the equine gestalt method.  The healing that happened and the lives that changed was phenomenal. Each year, more and more Cowgirls came to enrich their lives.
Covid happened, and we lost our overseas riders.  But we started cabin stays with horseback riding on the side.  Many people loved the simplicity and versatility of the cabin stays, and so did we. They enjoyed the scenery and the peace and quiet at their leisure, and did a little fishing, hunting, hiking, exploring and guided horseback riding, as well as enhancing and changing their lives with some equine coaching that is available on an individual basis.
We will be doing several Cowgirl Retreats in 2024, and the rest of the time will be cabin stays.  For those of you who came to the guest ranch and loved the riding here, we will have the same good horses and the same beautiful places to ride.  We will offer breakfast and lunch as options.
Changes are happening at Bonanza Creek, and we hope you will come and see for yourself.
2024 Bonanza Creek Rates & Dates 
Staying at one of our cabins is a great way to getaway in the mountains of Montana.
Our western furnished cabins are a combination of Montana simplicity and comfort and sit on the edge of our working cattle ranch adjoining the Lewis and Clark National Forest.  Peace and quiet are part of your everyday life.
In the summer you can enjoy horseback riding, fishing, hiking, life coaching, bring your own ATV for some exploring, or just settle in for some leisure time on your porch.  In the fall you can hunt on the Lewis and Clark National Forest. Whatever you choose, come prepared to enjoy nature and serene life in the "middle of nowhere".
We are located just off HWY 89 outside of Martinsdale in the heart of the Castle Mountains with a stunning view of the Crazy Mountains. 
We invite you to email us at bonanzacreekmontana@gmail.com or call us at 1 406 572-3396 (summer phone) or 1 406 572-3366 (winter phone).
The rate for each cabin is different, so please check cabin options for the cost. 
2024 Cabin Getaway Dates
May 24 – June 7 (riding & meals not available)

June 8 – June 21

June 28 – July 15

July 21 – 26

August 9 – 13

August 18 – Sept 3

Sept 8 – 17

Sept 18 – Nov 27 (riding & meals not available)
Every day is a new adventure on horseback – climb a high ridge, meander through the woods along Bonanza Creek, canter across open country, ride to an old homestead that the modern world hasn't yet reached.  Soak up all the beauty and tradition of Montana from the best seat in the world.
We have lots of sure footed ranch horses, and we will match you to the right horse for your riding ability.  
With country as big as this, there is an endless variety of rides we can take our guests on.  The rides chosen for each day will vary with the weather, time of year, and preferences and abilities of the guests.
This country has a wide variety of terrain – large pastures, rocky and sage brushed filled hillsides, open country, steep climbs and descents, creek bottoms, hills and mountains – you'll get to see it all.  The altitude of the rides will vary from 5200 feet to 8300 feet above sea level.
All riders must be able to safely and confidently ride at a canter/lope outside an arena in open country.  For those that are able, we are happy to pick it up a notch for a good gallop or two across the wide-open spaces.
All riders must be physically able to mount their horses.  While we have a mounting block at the stable, on the trail, stumps, rocks and high ground are your only assistance.
The weight limit for riding is 225 – 250LBS depending on your height, physical condition and riding ability.  Pregnant women cannot ride.  It is important for your enjoyment that you are physically fit.
2024 Horseback Riding Dates
June 8 – June 21

June 28 – July 15

July 21 – 26

August 9 – 13

August 18 – Sept 3

Sept 8 – 17
Horseback Riding Rates
4 hours of riding  – $175 a person
2 hours of riding – $100 a person
If you aren't in riding shape, please consider the 2-hour ride.
ACKNOWLEDGMENT OF RISK FORMS – Must be signed upon arrival.  If you would like a copy ahead of time, please let us know, and we will be glad to send you one.
Are you looking for great horseback riding AND an opportunity to change and enhance your life? Are you ready to let go of what no longer allows you to be free, to be you, and to discover the strengths within you?
There is no better place than the breathtaking mountains of Montana. You will be pampered with home cooked meals, massages, the fuzzy muzzle of a horse, and that much sought-after peace and quiet.  You will gain strength and courage through the horses, your coaches, and riding in this beautiful, empowering country.  This is an opportunity to learn what in your life no longer serves you and nourish what does.  Grit and grace go hand in hand in transforming your dreams.
Cowgirl Retreat Dates and Rates
June 23 – 27 – private retreat for Montanans 
July 28 – Aug 1 – Letting Go Retreat
August 4 – 8 – Letting Go Retreat
August 14 – 17 – Montana teens Retreat
September 4 – 7 – Honoring Montana Women's Veterans
The rate is $3000 (plus taxes).  There is no charge for the Veterans's Retreat.