Each day starts with a good hearty breakfast and is filled with horses, either out riding, in the arena or the round pen. Each day includes coaching either in a group setting or individual sessions when possible.
An intermediate level of riding ability is required in our rugged beautiful country, being able to canter outside of an arena.
Bring your own family and friends to share the experience, or come on your own and make new lifelong friends. Retreats are exclusive and limited to 8 – 10 women.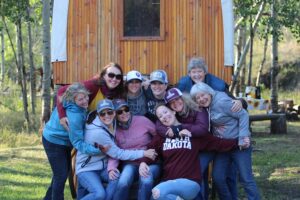 Rates include your cabin, all meals, riding, coaching, all activities, and time to relax and breathe in that fresh mountain air. You may be sharing a cabin with a new friend you haven't yet met.
CLICK HERE to Check out our cabins: Bonanza Creek Lodging
If you are flying to Montana, we recommend the Bozeman airport.
COACHING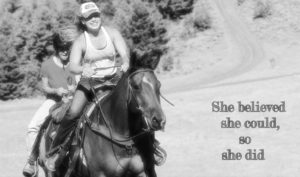 Coaching, whether in a group or in an individual session, is where the change starts to happen, the ability to look inside yourself knowing you have the answers. The coaches are there to help you search, and the horse is there to help you find the answers and to heal. It is a process of moving forward with new knowledge and choices, learning to respond, not react. You already know the answers to change your life in whichever way you choose.  In EGC (Equine Gestalt Coaching) the coach and horse work together with you towards your future goals, the horse keeping us always in our truth.
Our coaches are trained and certified under the Equine Gestalt Coaching Method® and are graduates of the Touched By a Horse Program, which is a highly comprehensive two year program.  Touched By A Horse and the EGC Method® were both developed by Melisa Pearce, a core founder since 1989, of the horse-human healing movement.  This method involves the horse as an active partner with the coach.  The horse's interaction combined with positive coaching, somatic awareness, and Gestalt methodology helps the client examine their life and choices with focus on a positive future.
HOW TO JOIN US
You can book through a phone call to Bonanza Creek 406 572-3366 (winter) and 406 572-3396 (summer) or online at Cowgirl Retreat Reservations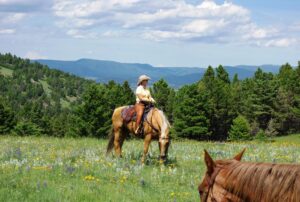 Visit our Photo Gallery to see more of the Bonanza Creek experience
If there is a heaven for horses and people, it must be here.  – Jean, Belgium 
In my Retreat journey, there was new healing for an old wound to my soul that I had believed was long healed.  In addition, there was the peace that spoke to me in the sound of the wind in the trees, the sun shining on the mountaintops in the distance, the moon lighting up my cabin at night, and the exhilaration of steady and strong horseflesh under me as we galloped across open meadows. The experience forever changed me.  – Gail
Beautiful people. God's Country for sure.   – Amanda
June provided a safe and comforting environment where we all could talk openly and honestly about anything.  The group and the horses worked wonders together. I walked away having found peace, a renewed sense of purpose and a whole new group of friends that I consider family.   – TC from Georgia
This does my heart and soul good.  – LouAnn
If you are looking for a piece of Heaven on Earth, the women's retreat at Bonanza Creek Country is it. I have spent many years trying to learn self compassion and kindness with very little success. The week at the retreat this past August turned this completely around.  – W Hoover, Canada