TRUE GRIT AND GRACE COACHING
Is Equine Coaching for Me?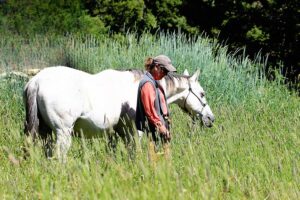 Are you searching for deeper meaning in your life?  Are you experiencing a significant life transition?  Searching for hope?  Or maybe in need of healing after a rough relationship or loss of a loved one?  Are you tired of the trauma, abuse or PTSD in your life?  Or simply wondering why you reacted differently than you wanted or expected to in some situations.  Maybe it is time to let go of some old trauma you didn't know you carried and move on to a more peaceful life.
If you want change in your life, and you want to do it in a beautiful setting in the great outdoors with the love of a horse, it is for you.
What do the Horses Do?
They are active partners in coaching and healing.  Just with their presence, they give us strength to find what is deep inside of us and make us self-aware.  By reading our energy they give us feedback as we search our souls, and they give us love and healing when we most need it.
Horses have no expectations or prejudices, they love and accept us for who we are. They will often choose to stand by us in support, other times they will actively engage.  They are intuitive and authentic and help us find and heal our pain and move forward.
Our hearts and our heads are often not congruent, the horses will get us out of the busyness in our heads and into our hearts where real change happens.
"Blessed are those who experience the whispers from a horse's heart."  Melisa Pearce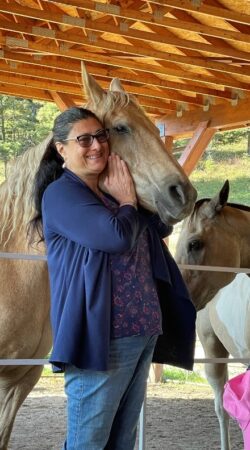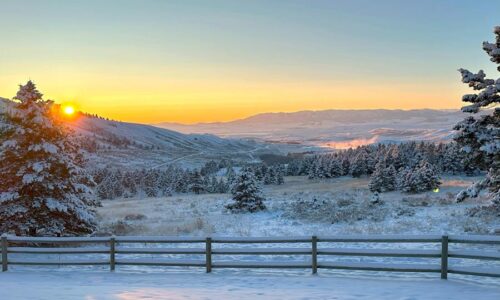 What does a Session Look Like?
Equine gestalt coaching is not therapy, but rather a way to work through life's challenges in a beautiful outdoor setting with a coach and a horse. It is experiential vs talk therapy and opens us up to see ourselves. The coaches are there to help us search, and the horse is there to help us find our answers and to heal.
These one on one sessions involve working with your coach and the horse in a round pen, with the horse being free to interact.  Each coaching session is as unique as each individual. They usually last around an hour with some being longer.  
It is a process of moving forward with new knowledge and choices, learning to respond, not react. You already know the answers to change your life in whichever way you choose, these sessions help you find those answers. 
Prior horse knowledge is not needed.
What Happens in the Winter?
Oh yes, Montana has a lot of that.  We move inside and enjoy the beautiful view from a warm and cozy place while we together figure things out.  Fall and winter have a way of telling our bodies to slow down, it's time for some deep introspection.  Is my life where I want it to be?
And if you don't live near by, which is most of you as we are in the middle of nowhere, we can get a whole lot of chatting and changing done on zoom.
"June is a powerful coach with amazing intuition and great wisdom. Her ability to meet me right where I was at, with compassion and no judgment, allowed me to feel safe and deepen my healing process. I highly recommend working with June."  Kim L. Wisconsin
What Is Gestalt Therapy?
Gestaltists encourage you to look at and understand yourself. They help you find your truth, without judgment, and accept you right where you are in life.
Gestaltists believe in taking responsibility for change in your life and moving forward rather than placing blame and remaining stuck. It's a belief that truth doesn't come from resisting our fears, but rather getting to know them well.
June is a graduate of the Touched By a Horse Program, the Equine Gestalt Coaching Method® which is a highly comprehensive two year program and is currently enrolled in the GCM graduate course.  Both were developed by Melisa Pearce, a core founder since 1989, of the horse-human healing movement.
Does Equine Coaching Include Riding?
Riding is not a part of the one-on-one sessions. However, in the summer, it is available if you are at least an intermediate rider.  Spending time out riding is a great way to gain strength from the mountains and trees and enjoy the peace and quiet soaking in your new knowledge and self worth.
In July and August, we host Cowgirl Retreats where riding is included as well as cabins and meals and connection with a group.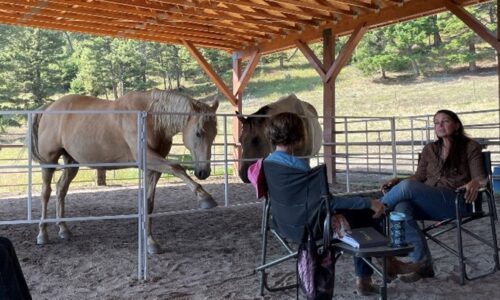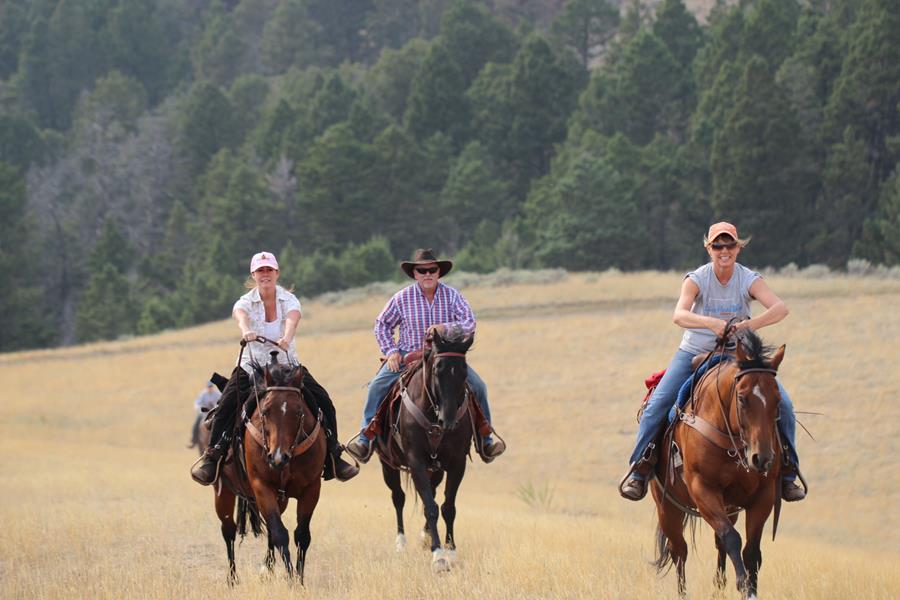 How Can I Book a Session?
Call Bonanza Creek at 406 572-3366 (winter) or 406 572-3396 (summer) or email us at bonanzacreekmontana@gmail.com
If you are a cabin guest, let us know through that booking or check with June at the lodge for a time, but it is best to book ahead.
Outdoor sessions with the horse can be scheduled almost anytime May through September.  However, they are weather related as our arena is covered but not enclosed, and Montana weather can be unpredictable, in which case we move indoors or use Zoom.
Each outdoor horse session is $200 and includes a follow up zoom session. In person sessions are $150 and Zoom sessions are $125. Be prepared for a life change, you are worth every penny. If it isn't a life changer for you, a refund is graciously offered.