A MONTANA COUNTRY WEDDING
 You could have a wedding that is beautiful and simple, set right here in God's country. Begin your life together amidst the strength and oneness that this beautiful country offers.
WHAT WE OFFER FOR YOUR UNIQUE COUNTRY WEDDING
Weddings by Wenda – We highly recommend Pastor Wenda who will meet with you and get to know your love story.  It's about you and your life together, not everything and everybody else.  She is a beloved, experienced wedding officiant and will create with you a wedding ceremony that will be warm and personalized.  
Ceremony – You can wed at the quaint Lennep Church which is just the right size for small and intimate or seats up to 90.  You can choose to marry outdoors in a casual setting under the canopy of Montana's big sky or make your vows at the Bonanza Creek Lodge.  What a choice!
Reception at the lodge – Feast on a sit-down dinner for a group up to 24, or for a larger group, spill out onto the deck and enjoy the gazebo and the casual atmosphere and view of the beautiful Crazy Mountains.  We will rent you the lodge for the day ($250) and leave the food, wedding cake, flowers, liquor, photographer, music, and all else up to you.  Keep it simple or splurge to your hearts delight.

Photo Ops – The church is picturesque in its country setting and is beautiful inside, use the gorgeous countryside as a backdrop, or it is hard to beat the view from the deck. Or maybe down by Bonanza Creek with the old sheepherder's wagon.

A Spot to Dress – Book a cabin for the day or night.

Cabin for Bride and Groom – A secluded little cabin just for you when the day is done.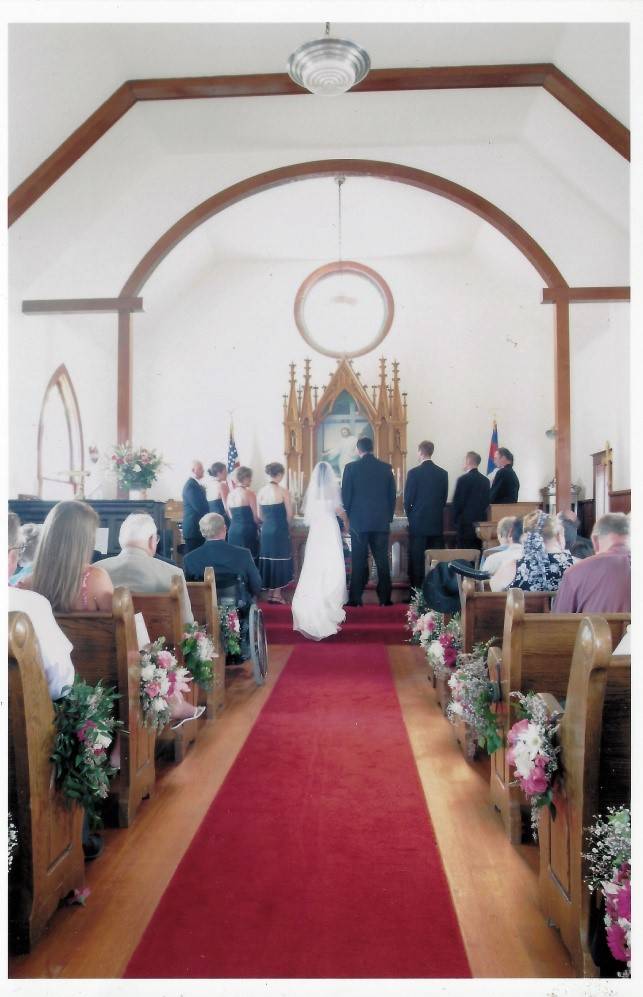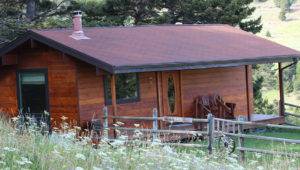 There are 3 additional cabins if more of your party would like to stay.  Included with your cabin is fishing, hiking, access to the Lewis and Clark National Forest, and, of course, peace and quiet.  Check them out here: https://bonanzacreekcountry.com/vacation-cabins/
Call us to discuss dates and details at 406 572-3366 or email June at bonanzacreekmontana@gmail.com 
WEDDINGS WITH WENDA
Wenda enjoys weddings and preparing couples for marriage. Her ceremonies are personalized and memorable.  She has a passion for meeting brides and grooms right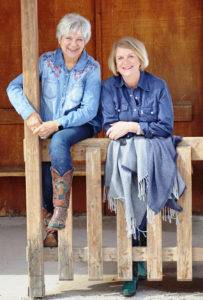 where they are.  Whether they believe, used to believe or want to believe in God, Wenda works intently to meet each person where they are today.  
Her Wedding Package includes a complimentary interview, two 90-minute pre-marriage "Get-to-Know" sessions, an hour wedding plan session, a 45-minute rehearsal and a 20–30-minute Ceremony.
Call her for a complimentary interview to see if you are a good fit for your Big Day? You can meet in person or connect via Skype, FaceTime or Zoom. Call or text Wenda at 406-672-3685 or email at weddingswithwenda@gmail.com
"To say that Wenda did a wonderful job in officiating our wedding would be an understatement. From our very first meeting and through to the big day, she took the time to get to know us on a personal level and recognize the small unique characteristics of our relationship. She made us feel comfortable from the very beginning and helped us recognize what each of us could bring to our marriage based on our life experiences. "
https://www.theknot.com/marketplace/weddings-with-wenda-billings-mt-582515
BONANZA CREEK LODGE
June and David Voldseth are owners of Bonanza Creek Guest Ranch, which sits in the middle of nowhere.  It is near Lennep Montana in the Castle Mountains and is known worldwide for its horseback riding and Cowgirl Retreats.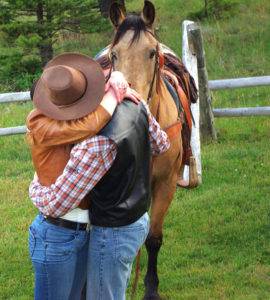 Weddings are a new venture that we are excited about.  Bonanza Creek is the perfect place
to tie the knot, it's secluded, it's beautiful, you can unwind, connect with nature, loosen up and have some fun.  You can become your true self out here in nature and can start your lives together truly knowing each other. 
June and her crew look forward to helping your special day be a truly blessed one.  
Contact us by phone at 406 572-3366 (winter) or 406 572-3396 (summer) or easier yet, send us a quick email at bonanzacreekmontana@gmail.com
Everything about this guest ranch was A+++. The cabins were clean and all within walking distance of the main lodge …  The food was amazing. June and David, along with the whole staff at Bonanza Creek, went above and beyond to make sure we had a great experience. They truly made us feel like family!! The scenery was simply breathtaking.  It was a perfect "10"!!